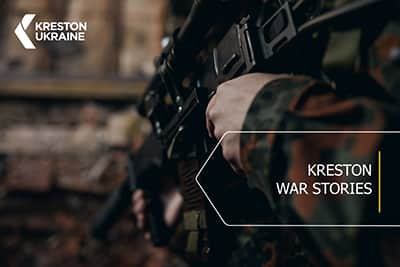 Today, several Kreston Ukraine employees serve in Territorial Defense Forces.
Territorial Defense Forces are the separate type of the Armed Forces of Ukraine. There is a place in territorial defense for everyone who wants to be ready to defend themselves, their home, family, city and country. The contract provides:
the defense and protection of the community in case of armed aggression or emergencies;
protection and defense of strategic objects, infrastructure and communications, state and local authorities;
fighting against sabotage and reconnaissance groups and illegal armed groups;
participation in ensuring public safety and order.
A wide range of responsibilities of Territorial Defense Forces demonstrates the importance of this type of troops for the protection of the state.
The story of Andriy Hrytsenko, senior audit manager at Kreston Ukraine, is notable in this regard. At the beginning of the war, Andriy joined a Separate anti-tank unit, which defended Kyiv from the most dangerous areas – Bucha, Irpen and Gostomel.
In between rotations, Andriy helps the Kreston Ukraine team with audit projects in progress.
For example, his current task is to confirm the financial statements of Cryoin, the large Odessa industrial gas producer. Before the war, Ukrainian producers – Cryoin in Odessa and Ingas in Mariupol – had 55% of market share of neon, the gas needed for the production of microchips. Unfortunately, Ingas in Mariupol stopped completely after the Russian aggression.
Our colleague Andriy Hrytsenko also contributes to the fact that Odessa-based Cryoin can continue its work.