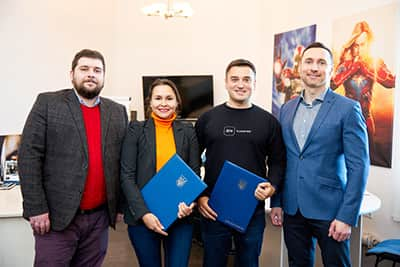 On February 7, Kreston Ukraine signed a memorandum of cooperation with the Ministry of Digital Transformation of Ukraine.
In parallel, memoranda were signed with the Kharkiv IT cluster and ISE Corporate Accelerator. Molfar and EASE partners also joined to develop the Ukrainian Tech Ecosystem platform. It is expected that cooperation and interaction between the participants of the memorandums will contribute to the analysis of the Ukrainian technological ecosystem and the presentation of the most up-to-date information about companies and industry specialists on the web portal.
Kreston Ukraine was represented at the meeting by Managing Partner Serhiy Atamas and Innovation Director Taras Dumenko.
"The development of the technological ecosystem at the national and state levels is a crucial task and the most urgent goal today. Thanks to such steps as today's memorandum, the goal of becoming the number one digital power in the world is becoming more and more real, " – says Serhiy Atamas with optimism.
Read more about the event by the link