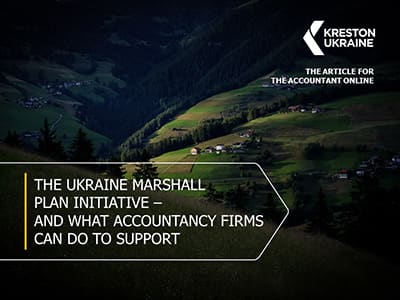 As the war in Ukraine enters its seventh week, it has been repeatedly observed that it is the most devastating conflict to reach Europe since the Second World. 
But the war will come to an end one day and a Ukraine Marshall Plan, underwritten by the world's leading economies, will give this once thriving economy a chance to recover. 
In her article in the International Accounting Bulletin, Liza Robbins, Chief Executive of 
Kreston Global
, tells what accountancy firms can do to support.
Kreston Ukraine provided consultancy services to the Office of the President of Ukraine and Ukrainian ministries on several occasions in the past. Now we are going not only take a part in the development of Ukraine's recovery programs, but to promote them among international financial organizations, foreign governments, public organizations, and private companies to involve one in the future reconstruction of Ukraine.
Kreston Ukraine invites the fellow member firms in the Kreston Global network to engage with the Ukraine Marshall Plan initiative, by signing up to lobby their own governments, and to join an international Kreston Global group, coordinating support. 
We truly appreciate the support of Kreston Global firms and their solidarity with the Ukrainian people.
The full text of the article read by the link