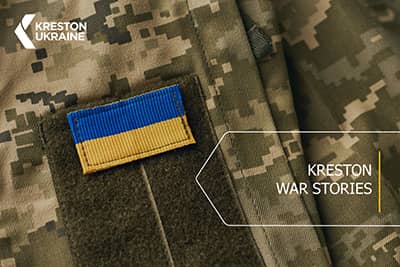 Today is the 40th day of Ukraine's desperate struggle for its integrity and independence. Our country has already suffered many losses. But we have won many victories and achievements that have been made possible by the unity of our nation and the military. We continue to tell about the military reality of Ukraine.
The today's story hero is Yegor, the Senior Auditor of Kreston Ukraine. He is an iconic figure because he joined the ranks of the volunteer movement when Russian aggression was limited to Eastern Ukraine.
Interestingly, shortly before the war, Yehor had planned to change Kreston Ukraine for one of the Big4 firms (for our company, transferring employees to Big4 and vice versa is the usual practice). However, the war interfered with the fulfillment of these plans. As Yehor posted on his LinkedIn, he still had to change jobs, but not how he had hoped.
A brilliant graduate of the University of Banking of the National Bank of Ukraine, Yehor excelled as an expert in accountancy and finance. He joined the Kreston Ukraine team about two years ago and has managed to become a senior auditor in such a short time.
The other passion of our colleague was his involvement in military volunteering. Yehor could not watch from the sidelines the hostilities in eastern Ukraine and joined the Hospitaller Medical Battalion. The unit was founded in the summer of 2014 and inspired by the Knights Hospitallers, a medieval Christian military order. Currently, the medical battalion is incorporated into the Volunteer Ukrainian Army.
During his career in Kreston Ukraine, Yehor was able to combine peaceful accounting work with front-line duties – he was going on regular duty in Donbas between audit engagements. By the way, the medical profile of modern Hospitallers does not exclude the weapons and their use in case of need.
Indeed, this is what happened at dawn on February 24, 2022. During the first strikes of enemy missiles, Yehor put on a bulletproof vest, picked up his assault rifle, and went to war with the Moscow aggressor. In doing so, our colleague did not forget to inform his manager and asked him to finish the ongoing audit engagement for a subsidiary of the Danish furniture manufacturer without him.
Yehor's life story is one example of how mindless Russian aggression has hindered the peaceful plans of many ordinary Ukrainians. Now our only agenda is to survive and defeat the enemy, after which we will surely return to fulfilling our dreams and ambitions.