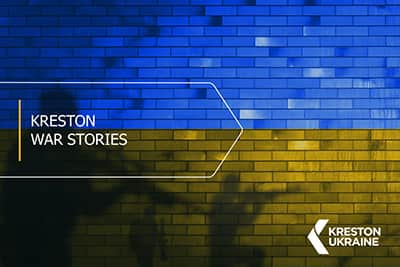 Modern warfare requires not only the fighters on the frontlines who resist the Russian aggression with weapons. Every patriot can find his place and make own contribution.
Until 2014, Denis Olefir, senior development manager at Kreston Ukraine, lived with his parents in a mining town in the Luhansk region. Shortly before the pro-Russian riot in the region, their family moved to peaceful Brovary near Kyiv.
Unfortunately, eight years later, the war still caught up with their family. Brovary became one of the directions of the Russian offensive on Kyiv, taking the brunt. Almost from the first days of the war, Denis' family had to hide in a shelter at nights from the shelling.
Denis himself regularly donated blood for the wounded, assisted the local territorial defense on a voluntary basis, and then joined the volunteer work, helping the residents of recently liberated territories.