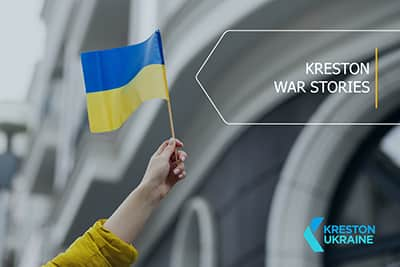 We are convinced that in any struggle, the winner is not the one who has more strength and resources, but the one who is able to unite and mobilize their resources, abilities and skills at the right time.
We have already said that volunteering and working on the home fronts are as important components of victory as the struggle on the front lines. David Glushchenko, IT administrator at Kreston Ukraine, joined the ranks of volunteers from the very beginning of the war. David says:
"If we briefly recall the chronology, the events unfolded as follows. In the first week of the war, I evacuated relatives from my native Irpen. In the second week, my brother and I helped the Irpin Bible Church to evacuate civilians. At the same time, we collected the humanitarian aid from all churches in Ukraine and brought it to Irpin.

Later, the Ukrainian Red Cross organized its green corridors, as well as the city administrations of Irpen and Kyiv. However, the Russian soldiers shot civilians even during the evacuation despite the agreement. Unfortunately, some of Territorial Defense fighters and unarmed volunteers were killed during the occupation of Irpen, my friends who were trying to help civilians that decided to stay in the city.

Those who decided to leave their homes for fear of death did not have time to take anything with them, only a passport and a wallet. The rest were burned by the Russian army. Just burned! This is not the result of a shell hit; it was a deliberate destruction due to arson. That's how eight of my friends lost their homes. Eight once happy families.

This fact proves once again that Russia with the help of its ugly army is purposefully destroying Ukrainian cities and villages, killing civilians. Therefore, there are simply no excuses for these soldiers".
But we are sure that the victory will be ours! After all, with such unity of all Ukrainians it cannot be otherwise.
Together to victory!