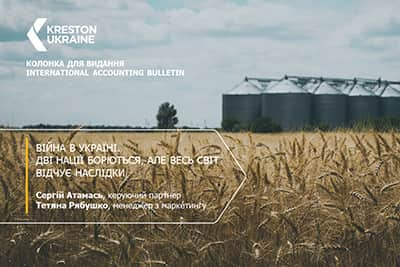 The war with the Russian Federation has been going on in Ukraine for three months now. Due to hostilities, the country has already lost 35% of its GDP, direct losses exceed 600 billion USD, and the number of dead is in the tens of thousands.
However, the consequences of this war have long gone beyond the borders of our country — the whole world will feel its influence to one degree or another. First of all, we are talking about the food crisis, as well as, as a result, the migration crisis. How serious is the situation and which countries will be affected first of all, the managing partner Sergii Atamas and marketing manager Tatiana Ryabushko comment for the International Accounting Bulletin. 
Please, read the article by the link.