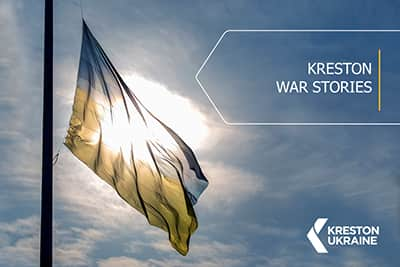 Volunteering is an effective and important way to help Ukraine to fight the enemy. Since the beginning of the war, many Ukrainians have joined the ranks of volunteers to make their best contribution to our victory.
The areas of responsibility of volunteers include a variety of issues: from providing sick people with the necessary medicines to evacuating citizens from dangerous places and searching for the missing.
Kreston Ukraine employees are also volunteering. For example, our colleague Diana provided assistance at a local hospital (we told her story earlier).
Today we want to tell you about Anton Popov, project director of Kreston Ukraine.
From the very beginning of the war, Anton fought on the information front in his native Irpen. He transmitted information and media materials from the Territorial Defense Forces to the Ministry of Emergencies and media channels. When the situation in Irpen became life-threatening, Anton evacuated to Vinnytsia and continued his volunteer work, helping to supply Territorial Defense Forces with equipment and uniforms.
Now, when Irpin and other suburbs of Kyiv have been liberated from Russian troops, Anton is returning and plans to join the team of our colleague Taras Dumenko, who was appointed as a Head of Gostomel military administration of Bucha district of Kyiv region.
A number of issues have now arisen in the liberated settlements that volunteers can help to solve: both as a physical force to clean streets, parks and ruined buildings, and intellectual force to develop the funds, projects and fundraising to rebuild destroyed homes of local residents.
Unfortunately, the apartment complex in Irpen where Anton himself lived, was also significantly damaged. We and our colleagues have a lot of recovery work to do.
Kreston Ukraine's initiatives to resist Russian aggression and lay the groundwork for Ukraine's recovery in the post-war period are aimed at ending the war sooner and get millions of Ukrainian families back to normal:  https://kreston.ua/en/kreston-ukraine-initiative/
Together to victory!